PARA-TROOP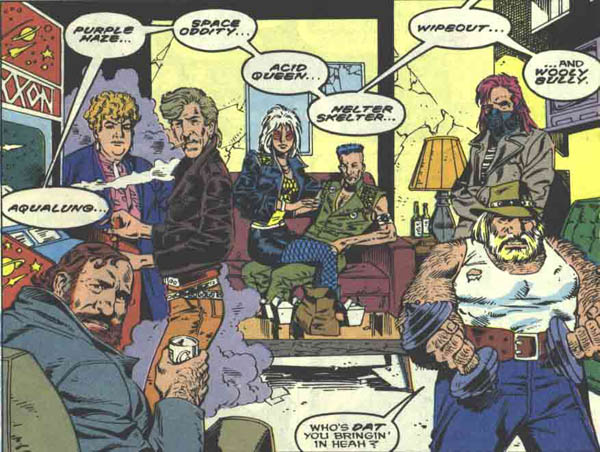 Membership: Acid Queen, Aqualung, Helter Skelter, Purple Haze, Space Oddity, Wild Thing, Wipeout, Wooly Bully
Purpose: To engage in gang activities in New York
Affiliations: Skeevos
Enemies: Captain Manhattan, Dave Landers, Randy O'Brien, Jenny Swenson
Base of Operations: The Black Shamrock, lower east side Manhattan, New York, Earth-New Universe
First Appearance: DP7#30 (April, 1989)
History: (DP7#30) <12/15/88> - The Para-Troop were a gang based out of the Black Shamrock bar, headed by a "power elite" comprised entirely of paranormals, and led by the Acid Queen. When members of the Skeevos gang were humiliated by the local hero Captain Manhattan, they met Wild Thing, and asked for the Para-Troop's help in dealing with the Captain. Wild Thing brought them to the Black Shamrock and introduced them to the Para-Troop. The Skeevos asked Acid Queen to deal with Captain Manhattan, noting that only another paranormal would have a chance against him. Once the Skeevos were gone, Acid Queen confronted Wild Thing, angry that now they would have to deal with Captain Manhattan or appear weak to other gangs. As punishment, she asked him to choose between her or Wipeout. He chose Wipeout, and was exposed to his friend's toxic breath.
To arrange a trap for the Captain, the Para-Troop kidnapped street corner Santa Clauses to disguise themselves, and then attempted to steal the Christmas tree from Rockefeller Plaza to draw the Captain out. The Captain appeared, but was joined by three paranormal friends of his, Dave Landers, Randy O'Brien and Jenny Swenson. In the fight that followed, the four paranormals bested the entire Para-Troop, except for Wild Thing, who fled when he recognized Landers and O'Brien from his days at the Clinic. Landers tied up the Para-Troop with Christmas lights and they left them for the police.
Comments: Created by Mark Gruenwald, Paul Ryan and Danny Bulanadi.
Each member of the Para-Troop is named for a classic rock song: Acid Queen (the Who, 1969), Aqualung (Jethro Tull, 1971), Helter Skelter (the Beatles, 1968), Purple Haze (Jimi Hendrix, 1967), Space Oddity (David Bowie, 1969), Wild Thing (the Troggs, 1966), Wipeout (the Surfaris, 1963), and Wooly Bully (Sam the Sham and the Pharaohs, 1965).
This profile is voted "most likely to confuse people making an internet search for rock song information, 2006."
by Prime Eternal
CLARIFICATIONS:
Acid Queen should not be confused with:
Acidroid, created by the Tinkerer, fought Cable, @ Cable#65
Aqualung should not be confused with:
Aquamariner of Earth-Amalgam, Sub-Mariner + Aquaman, @ JLX#1
Aquanoids, creation of Dr. Dorcas, @ Marvel Team-Up I#14
Aquanoids, AIM's robot guards at Boca Caliente, @ Captain America I#414
Aquanox, water covered planet, visited by Starjammers, @ Uncanny X-Men#391
Aquaria, Hydropolis, @ Namor I#46
Aquarian, Wundarr, Dakkamite, leader of the Water Children, @ Marvel Two-In-One#58
Aquarium, Russian GRU base, @ Black Widow: Pale Little Spider#1
Aquarius, Darren Bentley, of the Zodiac Cartel, @ Avengers I#72
Aquarius, Mr. Zodiac, @ Spider-Man Zaps Mr. Zodiac
Aquarius, Zachary Drebb, of the Zodiac Cartel, @ Iron Man I#184
Aquarius, of the Zodiac LMDs, @ Defenders I#49
Aquarius, of the Ecliptic Zodiac, @ Alpha Flight II#12
Aquaticons, aquatic race, fought Dr. Druid, @ Amazing Adventures I#2
Purple Haze should not be confused with:
Purple Girl, Kara Killgrave, @ Alpha Flight I#41
Purple Hayes, Nosferata, @ Sensational She-Hulk#19
Purple Man, Zebediah Killgrave, Daredevil foe, @ Daredevil I#4
Purple Mask, golden age hero, @ Daring Mystery Comics#3
Purple Ogres, of la Hacienda, @ Man-Thing I#8
Purple Phantom, Hunk Hondo, Two-Gun Kid foe, @ Two-Gun Kid#68
Purple Plague, killed those who raided ruins of Lanjau, @ Conan the Barbarian#255
Purple Veil, alias the Purple Dimension, @ Strange Tales I#119
Purple Veil, Mary Lou, of the New Universe's ESPeople, @ DP7#11
Space Oddity should not be confused with:
Space Ace, Ace Frehley of KISS, @ Marvel Super Special#1
Space-Bomb, used in the Hand's assault on the Helicarrier, @ Wolverine II#28
Space Gem, of the Infinity Gems, @ Avengers Annual#7
Space Gods, the Celestials, @ Eternals I#2
Space Gods, the Axi-Tun, @ Giant-Size Invaders#1
Spaceknights, defenders of Galador, @ Rom#1
Spacemen, villains posing as heroes, @ Untold Tales of Spider-Man#4
Space Parasite, Randau, Xeronian, Hulk foe, @ Incredible Hulk II#103
Space Phantom, servant of Immortus, @ Avengers I#2
Space Pool, gazing pool of Karnilla, @ Thor I#165
Space Saver, video game made by Dr. Giles Niven, @ Marvel Two-In-One#98
Space Seed, spores, took over humans, @ Alpha Flight I#47
Space Sentinels, Speed Carter and his friends, @ Speed Carter#1
Space Station Eve of Earth-Starlord, base, @ Marvel Preview#4
Space Turnip, Arthur Winslow, Howard the Duck foe, @ Howard the Duck I#2
Space Wall, separates Microverse from Earth, @ Micronauts I#1
Space-Worm, attacked Kehilla, @ Marvel Comics Presents#93
Wooly Bully should not be confused with:
---
AQUALUNG
Aqualung was a paranormal member of the Para-Troop who could emit powerful sonic blasts from his mouth.
HELTER SKELTER
Helter Skelter was a paranormal member of the Para-Troop, and was Acid Queen's lover. He could extend his fingernails into claws.
PURPLE HAZE
Purple Haze was a paranormal member of the Para-Troop who could generate a purple mist around herself, and could use it to choke opponents.
SPACE ODDITY
Space Oddity was a paranormal member of the Para-Troop with the ability to fly.
WOOLY BULLY
Wooly Bully was a paranormal member of the Para-Troop. He was shorter than an average person, but had superhuman strength.
--DP7#30








---
Images taken from:
DP7#30, page 11, panel 3
---
Appearances:
DP7#30 (April, 1989) - Mark Gruenwald (writer), Paul Ryan (pencils), Danny Bulanadi (inks), Howard Mackie (editor)
---
First Posted: 01/29/2006
Last updated: 05/10/2011
Any Additions/Corrections? please let me know.
Non-Marvel Copyright info
All other characters mentioned or pictured are ™ and © 1941-2099 Marvel Characters, Inc. All Rights Reserved. If you like this stuff, you should check out the real thing!
Please visit The Marvel Official Site at: http://www.marvel.com
Special Thanks to www.g-mart.com for hosting the Appendix, Master List, etc.!