SHIVA
Real Name: Shiva (also Siva)
Identity/Class: Hindu God
Occupation: God of Destruction and Rebirth
Group Membership: The Hindu gods (Daevas)
Affiliations: Angkor, Dansen Macabre, the Cult of Kara-Kai
Enemies: The Rakshasas
Known Relatives: Daksha (father-in-law), Himavat (father-in-law), Ammavaru (mother?),
Parvati (wife), Kâli (wife),
Ganesha, Skanda (sons),
Dharma, Kama (nephews), Padma, Vach (nieces),
Lakshmi, Sarasvati (sisters-in-law),
Aliases: Sharevar (Persian name), Nataraja, Jyotirlinga
Base of Operations: Kailasa in the Nirvana Dimension
First Appearance: (Mentioned; see comments) Real Mystery Magazine I#2 (July, 1940); (seen) Thor I#301 (November, 1980)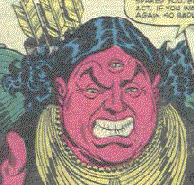 Powers/Abilities: Shiva possesses greater than normal powers of the Hindu gods. He has incredible strength to match Thor (Class 100) and endurence as well as remarkable speed and reflexes in his four arms. He also has considerable powers to manipulate energy, but not as far as Vishnu's extent. In addition, he can project energy from his third eye, which enables him to mentally enslave and control others, as long as they remain in its direct path. He carries an arsenal of weaponry, including his lightning spear, which can release lighting in the form of bolts of cages.
He is, however, much more powerful in his native dimension than he would be in another such as Asgard.
History: (Hindu Myth) - Shiva is the part of the ruling triumvirate of gods that also includes Vishnu and Brahma, who are his brothers only in the sense of equalness in power and role. The three rose to ruling council of the Hindu gods after Vishnu overthrew the Rakshasas, the Hindu demons who overthrew their vedic ancestors.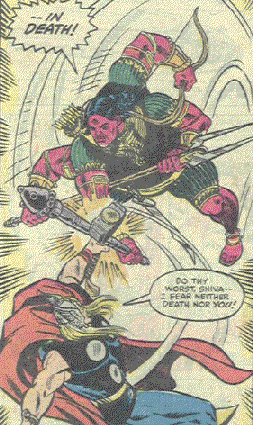 BTS - Shiva apparently granted power to the woman who became Dansen Macabre.
(Thor I#301) - In the wake of Ragnarok, Thor appeared in Nirvana seeking a portion of the life energies necessary to resuscitate the Asgardians. Vishnu, Brahma and Shiva however put the option to a vote and decided not to donate the energies preferring rather they go on to other immortals. A clash of tempers, however, causes a confrontation between Shiva and Thor that leads back to Bifrost, the rainbow bridge to Asgard. Realizing he was overwhelmed by the thunder-god's passion, Shiva formulated an uneasy truce and relinquished the energies Thor wanted. The two separate with uneasy tension.
(Thor Annual#10) - Indra assists Thor, Apollo, Tawa, Quetzalcoatl and Shango against Demogorge the God Eater. Although briefly consumed by the entity himself, he is rescued by Thor.
INDRA TELLS THOR THAT IT WAS IN FACT HE WHOM THOR BATTLED PREVIOUSLY (in issue#301), NOT SHIVA. THIS WAS PART OF SOME UNEXPLAINED DECEPTION. (see comments)
(Thor I#398) - While in Nirvana, Shiva overhears the Enchantress's primal scream over the death of her lover, Heimdall.
(Thor II#61) - Thor was called before the Council Elite to be tested for worthiness to join them, as a replacement for Odin. Shiva was present at this meeting, and it was he who insisted that the newcomer perform the Koronkakkta, a ritual to test his character. Thor was judged as having failed the test.
Comments: Adapted by Mark Gruenwald & Ralph Macchio
The use of Shiva, one of the principal gods of the Hindu religion, and his defeat at the hands of Thor, did not sit well with members of one of the largest, thriving religions on the planet. As a result, Marvel ret-conned that appearance to be Indra, posing as Shiva.
According to Will U:
"Shiva appears in Thor Annual 10 claiming to be Indra, who is a golden-skinned deity. The ruse is confusing, but easily explained above. The confusion can be made as thus. When Vishnu, Brahma and Shiva ascended to heaven, they replaced Varuna, Mitra and Rudra, respectively. Rudra was a storm-god and a sort of mentor to Indra (Rudra's sons, the Maruts, even followed Indra into battle). Several hypothetical translations think Rudra and Shiva to be the same deity, but their families and descriptions don't line up. Furthermore, Rudra and Indra were more water gods; Shiva was also a god of volcanoes and fire.
However, Marvel lists the character appearances as Indra, not Shiva.--Snood.
In Hindu myth, Shiva rides a bull named Nandi, who is also a god in animal form.
Discussions on Shiva:
According to Pranshu B. Saxena, who "is a believer of sanatan dharma or what the foreigners refer to as Hinduism. Hindu originally means simply a person living in india (more accurately east of river sindhu (indus)).
The concept of religion as you say in the west is very, very different from that in India."
Shiva had no mother, Daksha was father in law; Vishnu and Brahma are brothers in sense of equalness of powers or role. Kâli is wife of Shiva, Himavat is also father in law.
Maruts the storm gods are not sons of rudra and are half brothers to Indra actually. There are btw 13 Rudras, all affiliated to storms and to Shiva.
Varuna and Mitra are the older brothers to Indra and Vishnu who are real brothers.
Vishnu was also born as vamana , younger brother to them.
Mitra is the same as Surya.
The ancient vedic storm god Rudra fused with sarasvati-indus valley god pashupati anddravidan god to form the modern Shiva.
Pranshu continues with the further discussion:
"There are at least 900 million hindus, so according to an actual amorphous definition of hinduism implies there can be 900 million different pantheons (that would explain why we don't have fatwa) so in a way even marvel 's versions can be accepted as a new pantheon (note: yogavasistha did talk about infinite universes :-)). But of course, we are not truely free of prejudices and fears and hence Marvel 's representation of hindu gods (or even in Xena) would seem an attack or even unintended attempt to create offense.
I believe the Marvel comics makes a mockery of indian belief system by using Hindu gods like Shiva, Vishnu. The concept that there is a realm of Hindu gods is laughable. According to yoga vasishta written around 400 BC, there are countless universes, each atom has in itself another universe. Each action initiates a choice and each choice creates a new universe. But Shiva, Brahma and Vishnu transcend all.
Why western story tellers always go for the big guys is not understood. There are levels of power structure and if marvel comic writers had taken pains, they should have used gods like Indra who will still be too powerful for say Thor or say, Superman.
In recent Wonder Woman about couple of years ago, DC handled it differently when they used Rama as a war god and possible love interest for Wonder Woman!! Rama is worshipped by millions of women in India as the ideal man and husband whose sole interest is his wife Sita, who was formed from earth just like wonder woman. As Rama is also born human and possibly died and shown having some human frailities like bowing to popular pressures of ruling etc., that depiction was much better."
The first lines of rigveda mentions a deity who is unnamed and was probably existent before existence and is probably represented by symbol OM. He is the God? though a question mark always is put next to the prayer.
Their strength is said to be derived from the faith of the followers. Indra all too often loses throne to a Rakshasa warlord or other due (Rakshasa wrongfully translated as "demon") to faith of the followers in that warlord. All too often the conqueror loses out to either vishnu or shiva or brahma or their incarnations or forms after crossing the boundary line, absolute power corrupts absolutely. Thus no one has absolute power and Indra is in power as he can resist the corruption of power. He himself has been overthrown due to his own corruptions. One soul is said to have been Indra 19 times and still could not discover the eternal truth. Also, the wisdom is more respected than strength.
There is a whole sets of lower gods, god tribes, races like yakshas, innars, vanars, garudas, 8 main snake races, semi-immortal humans or human offspring of gods or whole cornucopia of literture from panchatantra, katha sarita sagara, puranas, gathas, hitopdesha, smritis, upapuranas, sangama, mahabharata et all. India has been producing heroic literture for only 3500 years.
Also a very important point to understand is that there is no concept of evil but there are hells, 21 i think. nobody is fully bad or fully good. Eve Dharma raja (Yama)'s son yudhisthara spent time in hell for telling a lie.
Anyway, the source <for this information> can be Skanda Purana and Bhagvata Purana which i have here in the USA.
Another opinion courtesy of Shubh Karan:
You should refer to the Indian comics based on Indian Gods and Hindu Mythology....Shiva is all powerful, with immeasurable strength and power....you can't classify his strength as class 100, etc....he is the 'Destroyer', and (fortunately for everyone), generally stays out of the affairs of the world. If he opens his third eye, or gets agitated and dances the Tandav, thats it, man, end of the world - Brahma'll have to start rebuilding again....gods such as Indra could be classified as say class 100 strength, etc - they are defeatable. Shiva and Vishnu are approached by other gods when things get out of hand for them. In other words, you approach them when nothing else works, and they always fix things no matter what. In his human incarnations, Vishnu is considerably less powerful, but powerful enough to handle the crisis at hand (he usually doesn't call on his full power, unless required)....Marvel should make gods lke Thor, Hercules and Zeus battle Hindu gods of the level of Indra (King of the Daevas, hence probably equivalent of Zeus' power and strength level). If Thor approached Shiva, and angered him, Shiva'd just open his third eye and incinerate Thor into nothingness....Thor'd end up being reborn somewhere, and finally, Shiva'd grant him forgiveness (if Thor behaved really well, and various other Gods appealed to Shiva on Thor's behalf), and he would take his original form....aint no defeating Shiva man!! All gods fear him!
Also, the Marvel comics artists should check out the depiction of Shiva in Indian Amar Chitra Katha comics - its far superior to the drawings done by Marvel - ok, maybe the coloring, shading etc of Marvel artists are usually better than Amar Chitra Katha (AMC), but the AMC artists capture the essence of Shiva much better - he's lean and muscular, the body of an Ascetic who practices intolerably hard penance and self denial, and stays away from the world atop Mount Kailasa....also lithe and supple, an expert practitioner of Yoga, and the greatest dancer in the world.....he's not a pumped up heavy muscled freak (looking as though he's been blown up with steroids) who couldn't shake a leg....he also has very long hair that are always tied up in a bun - he once caught and entrapped the river ganges (also a goddess) in that bun...and always has a snake around his neck - a king cobra.
yeah, that's probably why Marvel decided to reveal that it was actually Indra whom Thor had fought in those issues.
Class 100 strength includes anything > 100 tons, as it is difficult to quantify beyond that. You do have to remember that there is a difference between Marvel's characters, and the characters from religion.
While Marvel may have goofed in having Shiva fight on the level of Thor (although Shiva was overpowering him in Nirvana), it would make more sense to have him be more an the level of Zeus or Odin, again, only in the MU.
Also, if you cling to the belief that it was really Shiva, and not Indra, you could just think that Shiva was merely toying with Thor, and testing his abilities, only feigning defeat for his own purposes--Snood.
I'm attaching a much better drawing of Shiva done by Amar Chitra Katha comics...much better than what Marvel have done, that is...its a small picture, but gives an idea...theres a whole world of Gods, and Indra is their king...so he's like as powerful as Zeus or Odin....then there's the Trinity - Brahma Vishnu and Mahesh (Shiva), who transcend all universes and are all powerful....think of them as the kings of the Celestials or something...all powerful with untold power...they could grow to over 2000 feet if they wanted to, or stand at the size of a normal man - whatever they choose. And Shiva is the most dangerous and volatile of them...the easiest to anger, but also the easiest to please and obtain favor or powers from...known as Bhole (simple thinking) Shankar, who will grant Boons to anyone, whether good or bad, if they perform sufficiently severe penance and meditation (it would usually have to encompass several rebirths, so its pretty hard)...if he's pleased, he'll grant them a wish....if that leads to trouble for the world/worlds, well that's that then....let the other gods handle it...if they all fail and it comes back to Shiva and he's angered he'll just incinerate the guy...
If it was depicted that Shiva had some respect for Thor because Thor was a mighty powerful and honorable god himself, so Shiva decided not to destroy him
instantly, but to test his passion by seeing how well Thor would battle, and whether Thor would be willing to battle to the point of his death, and then Shiva
pleased with the effort put in by Thor would grant him what he wished instead of killing Thor, it would be acceptable...

Will defends his claim that it is Shiva, and not Indra, in both Thor#301 and Annual#10:
As gods, they would both be able to change form, however, in the earlier appearance, Shiva is obviously more concerned about reviving gods past their prime over ascendant gods as the Hindu gods. This would be typical for him since Indra is basicslly a Hindu Hercules caring more about getting drunk and having adventures. In the mythology, Indra heard about how the dragon Vritra was causing droughts on earth. After getting rib-snorting drunk on amrita (a Hindu nectar), he charged earth and killed the dragon by drowning it since it was immune to weapons. He was severely reprimanded since Vritra despite his nature was a friend and ally of Vishnu, a minor sun god at the time. The gods slew Airvariat, Indra's elephant mount, and used the beast's life energies and head to revive Ganehsa, who was near death. This is how Ganehsa became the elephant-headed god of wisdom we see on Apu's counter on The Simpsons."
Again, it's a matter of whose personality actually fits the deity. Indra would have most likely pushed Thor aside and tried killing Demogorge on his own. That was more his nature. Plus, Indra and Vishnu have been on the outs for a long time. Despite their boyhood friendship, Vishnu would be holding him back in the Hindu Pantheon. Indra had major clout in the old Vedic Pantheon, but his role was greatly diminished under the Hindu Pantheon. He would not be allowed to impersonate Shiva, a major deity with worshippers today, and he would not be able to pull it off in front of Vishnu, Shiva nor Brahma.
In OHotMU 2006#3 it was confirmed that Indra impersonated Shiva at least on one occasion.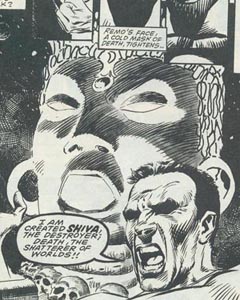 According to John McDonagh:
The Destroyer, Remo Williams, originated in a series of paperback books. A policeman framed for murder, he became a special government assasin for the agency CURE. Trained by Chiun, he developed mystical martial arts powers. Unarmed and dangerous, he discovered he was an avatar of Shiva.
The place of the Destroyer in the Marvel Universe is a little uncertain. Using the idea that the adventures could have taken place in real time (don't you feel older, thinking that the origin of the Fantastic Four did not take place until after the early 1990's), you could fit them in. Admittedly, in Destroyer I#1 (magazine), a character says "Who do you think you are, the Hulk?". However, that could have been a reference to Xemnu the Titan.
I recently purchased a copy of Adventure House's reprint of Real Mystery Magazine I#2 (July, 1940). This is one of Martin Goodman's "shudder pulps." Since it's been established that Goodman's magazines are 616 stories (with the probable exceptions of his sci-fi stories set in the future), I've been looking through whatever copies I can of his magazines for anything of particular interest for 616 continuity/history.
I noticed that the main villain in the story "Mates for Hell's Half-World Minion," Anya Prami the Priestess of Anguish, says "I tell you I will destroy every young person in this city--destroy them in a madness and horror such as you never dreamed of! Before Siva, Eighth Avatar of Vishnu, I swear it!" Shiva never actually appears in the story, but this is probably the first (publication-wise) reference to him in a 616 story.
Luke Van Horn
Profile by William Uchtman. Edited/Revised by Snood.
Clarifications: Shiva the God should not be confused with:
Shiva, Dr. Si Fan Chung, of the Nest, @ Marvel Team-Up Annual#1
Shiva, the computer program designed to kill those involved with the Weapon X program, @ Wolverine II#48
---
Appearances:
Thor I#301 (November, 1980) - Mark Gruenwald & Ralph Macchio (writers), Keith Pollard (pencils), Chic Stone (inks), Jim Salicrup (editor)
Thor Annual#10 (1982) - Mark Gruenwald & Alan Zelenetz (writers), Bob Hall (pencils), Rick Bryant, Joe Rubinstein, Andy Myshynsky, Al Gordon & Kevin Dzuban (inks), Mark Gruenwald (editor)
Thor I#398 (December, 1988) - Tom DeFalco (writer), Ron Frenz (pencils), Don Heck (inks), Ralph Macchio (editor)
Thor II#61 (May, 2003) - Dan Jurgens (writer), Ben Lai (pencils), Ray Lai (inks), Tom Brevoort (editor)
---
Any Additions/Corrections? please let me know.
Last Updated: 05/22/17
Non-Marvel Copyright info
All other characters mentioned or pictured are ™ and © 1941-2099 Marvel Characters, Inc. All Rights Reserved. If you like this stuff, you should check out the real thing!
Please visit The Marvel Official Site at: http://www.marvel.com
Special Thanks to www.g-mart.com for hosting the Appendix, Master List, etc.!